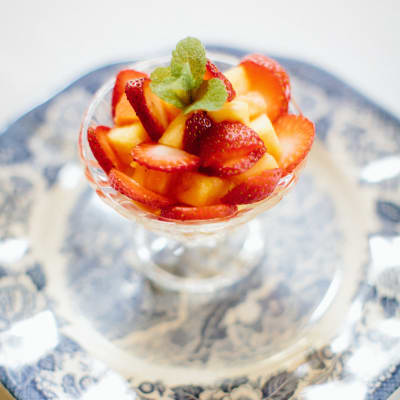 Culinary Delights
At the Chestnut Street Inn, we eat with all of our senses. Breakfast is not a detour from your travels; it's a stop along the way. Although you'll find us in North Carolina, we find inspiration for our breakfast menus from all corners of the world.
We offer an early coffee start at 7:30 a.m. with rich and smooth, full-bodied and freshly ground, organic coffee. Our seated breakfast is served at 9 a.m., but should you wish to take an early morning hike or have other plans, we would be happy to provide you with other arrangements.
Whether we are serving our famous crepe-waffles, Monte Cristo sandwiches, southern biscuits and gravy or seasonal pancakes, we hope to start off your day with a full stomach and heart.
Each afternoon you can find Emilie's homemade cookies fresh from our kitchen for you to enjoy with a cup of tea on the porch.
Dietary restrictions:
Chestnut Street Inn is a vegetarian-friendly bed and breakfast.
We are happy to offer alternatives to our guests who are vegan, vegetarian, lactose or gluten intolerant, or diabetic. Please let use know of special dietary requirements when you make your reservation, so we will be prepared for your special needs, including requests for almond or soy milk, soy sausage etc.